Permanent Cosmetic Makeup
Are you considering a permanent cosmetic make-up procedure?
Now you can experience the same joy as thousands of men and women worldwide!
Permanent cosmetics are not only for the 'Rich and Famous'.
Choose from:
Eyebrow
Lip Colour
Lash Enhancement or Eyeliner
Beauty Marks & Tiny Tasteful Tattoos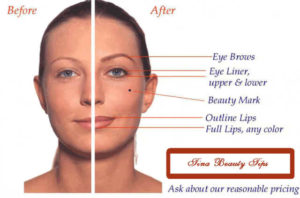 Eyebrows
Eyebrows are the focal point of the face. Sparse brows will appear fuller with several colours added to your existing brow hair. For those that do not have any brow hair, let us create the 'perfect brow' to compliment your facial features. Brow pencil may be added to create dramatic evening effects.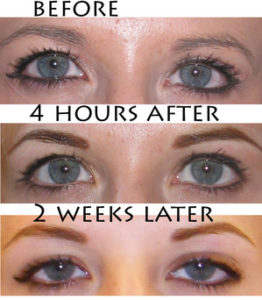 Eyeliner
We can create a soft, subtle lash enhancement that will make your eyes appear larger. For a dramatic look, a 'full eyeliner' will enhance your eyes. Choose colours from a soft brown to the darkest of blacks.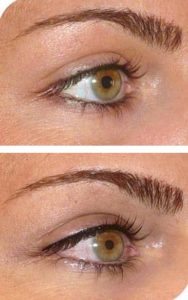 Lip Colour
Let us create the perfect lip colour for your specific skin undertones. Choose colour that will enhance your natural beautiful lips, to a more defined lipline or a soft muted colour. Lipstick can also be worn over your existing permanent colour to create a new look.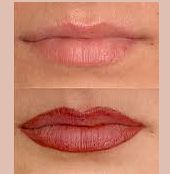 Look Great Day and Night
Waterproof Makeup
Frequently Asked Questions:
Who benefits from permanent cosmetics?
People that:
Have poor eyesight and unsteady hands.
Are physically challenged.
Have thin or sparse eyelashes or eyebrows.
Have traditional make-up allergies.Have permanent hair loss.
Have oily skin.
Have Vitiligo, Alopecia, Hyper & Hypo-Pigmentation or are Burn Survivors.
Have asymmetrical facial features.
The everyday, busy person who wants to look their best.Women who travel, swim or camp.
Have had surgical procedures. (Scars can be camouflaged.)
People that need to create the illusion of areolas and nipples after breast cancer and reconstructive surgery.
Men may want permanent colour to give the look of fuller eyebrows, to mask the effects of hair loss or to camouflage scars.
Does it hurt?
Topical anesthesia's may be used to alleviate discomfort during the procedure.
Is permanent make-up 'permanent'?
Your permanent cosmetic make-up procedure depends upon the technician, the products used for the application, how deep the cosmetic tattoo was placed into the skin, how well you take care of the procedural area while it is healing, and whether or not you use a total sun block after the procedure area has completely healed. All these factors will determine how long the procedure will last. Colour enhancers are also suggested 'as needed' to keep the procedure looking 'fresh and new'.
Can I have permanent make-up if I am allergic to regular make-up?
The client who is allergic to traditional facial make-up is the perfect candidate for a permanent make-up procedure. The technician will patch test you in the area of the desired procedure, wait 6-8 weeks, and proceed as necessary.
What will I look like immediately following my procedure?
Your procedure area may be slightly swollen and irritated. This is called a 'wheal and flare' reaction. The area may also be darker for a few days while it is healing because of the lymph and blood droplets that may have been brought to the surface during your application. While your procedure area is healing, it must go through three phases before you will experience your final results. The procedure area must first heal, peel and fade. Final results may take 4-8 weeks to completely heal.
Is this procedure safe?
Permanent cosmetic procedures are safe if the technician has had a proper education and follows all of OSHA and CDC guidelines. Single use, sterile needles and machine parts are used for each client and then properly disposed of.
How do I care for my 'NEW' permanent make-up procedure?
After completion, you will receive a post-treatment care instructional sheet. The overall success of your procedure is contingent upon you following these instructions. A follow-up visit will be scheduled approximately 4-6 weeks from your initial application. This is to fine tune and touch-up any area of the skin that may have expelled the pigment.
Can a person on medication have a permanent make-up procedure?
Clients on medication should obtain a release from their physician prior to any permanent cosmetic make-up procedure. The release should be written on the physicians prescription notepad and sent to the technician's office prior to the start of any procedure.
Do I have to take any precautions prior to a lip procedure?
If you have ever had a cold sore or fever blister, you must take an antiviral pre-procedure. Your physician may prescribe Valtrex, Famvir or Zovirax. Herpetic outbreaks usually occur on the 3rd day post procedure and taking antivirals will lessen your chance of an outbreak. If you do experience a herpetic outbreak, you may lose the implanted pigment colour in the area of the outbreak.
Please contact us for your consultation. We will be happy to discuss your particular questions and design a look that will be perfect for you.
Hair Line Stroke Brows
Touch Up for B & E Procedure
Color Boost after 15 months
Full Powder Brows (2)
Eye Liner Top or Bottom
Eye Liner Medium Liner (T&B)
Eye Liner Thick Liner(T&B)
Eye Liner Enhancement
Mucosal Eye Liner
Lip Liner & Feathering
Full Lips
Lip Retouch
If it has been over 3 years since your last touch up, then it will be the beginning price.